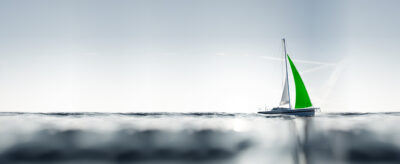 Authorisation in the DIFC
Guiding You Through DIFC Authorisation
The DIFC authorisation process can be daunting. We have set out below an overview of the DIFC regulatory environment, DFSA authorisation and how we can assist you with the licensing process as well as provide you with ongoing guidance and support.
What is the DIFC
The DIFC (Dubai International Financial Centre) is a Financial Free Zone within the UAE with its own civil and commercial laws as well as its own financial services regulator, the Dubai Financial Services Authority (DFSA).
Any business establishing in the DIFC can have 100% foreign ownership and is subject to a civil, commercial and regulatory environment similar to that established in the United Kingdom.
Does your business need to be regulated by the DFSA?
Any business providing a financial service from a permanent place of business in the DIFC must be regulated by the DFSA. This includes, but is not limited to:
banks
brokers and dealers
asset managers
corporate financiers
wealth managers
insurers and insurance intermediaries
The type of business you wish to conduct and the licensed activities you wish to undertake will define the category of DFSA licence you will require.
The DFSA operates a professional-retail client regime similar to that under MiFID and, whilst the DIFC is mainly a professionals market, a retail endorsement is available to firms wishing to undertake retail business.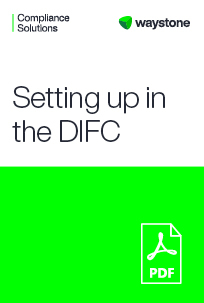 Setting up in the DIFC
Our guide to DIFC company set up provides further details and insights on the application and DIFC authorisation process, including:
DFSA licence categories
restrictions on doing business from the DIFC
the application process
mandatory appointments.
If you are a fund manager or asset manager looking to establish in the DIFC, the  flexible and cost-efficient fund regime offers a number of attractive opportunities.  Our Guide to the DIFC Fund Regime provides concise information to support your decision-making process.
Find out more about:
How Waystone Compliance Solutions can help
Waystone Compliance Solutions will coordinate and project-manage the entire DIFC application from start to finish and offer you clear guidance throughout the process. We will also assist you to manage your relationship with the DFSA and DIFC Authority by attending all meetings and overseeing all correspondence.
We will provide you with all the DIFC compliance policies, procedures, systems and controls needed to meet the DFSA's requirements.
Post authorisation, our highly-experienced DIFC advisors will provide ongoing compliance advice, training on specific governance, risk and compliance issues, undertake independent monitoring reviews and even act as your Compliance Officer and/or Money Laundering Reporting Officer ("MLRO") on an outsourced basis.
To learn more about our Middle East Solutions, get in touch with a Waystone Compliance Solutions representative today. 
Are you considering a Variation of Permission or endorsement to your DFSA Licence? We'll help you identify the right course of action and manage the process for you.
Getting your FinTech Firm Authorised in the DIFC